Homemade Carrot Bread Rolls
This recipe is very similar to the Carrot bread, but a little lighter. This is more common for lunch. Add hard-boiled and sliced eggs, cheese, tomatoes and cucumber on a sliced half. Now you can eat like a Norwegian.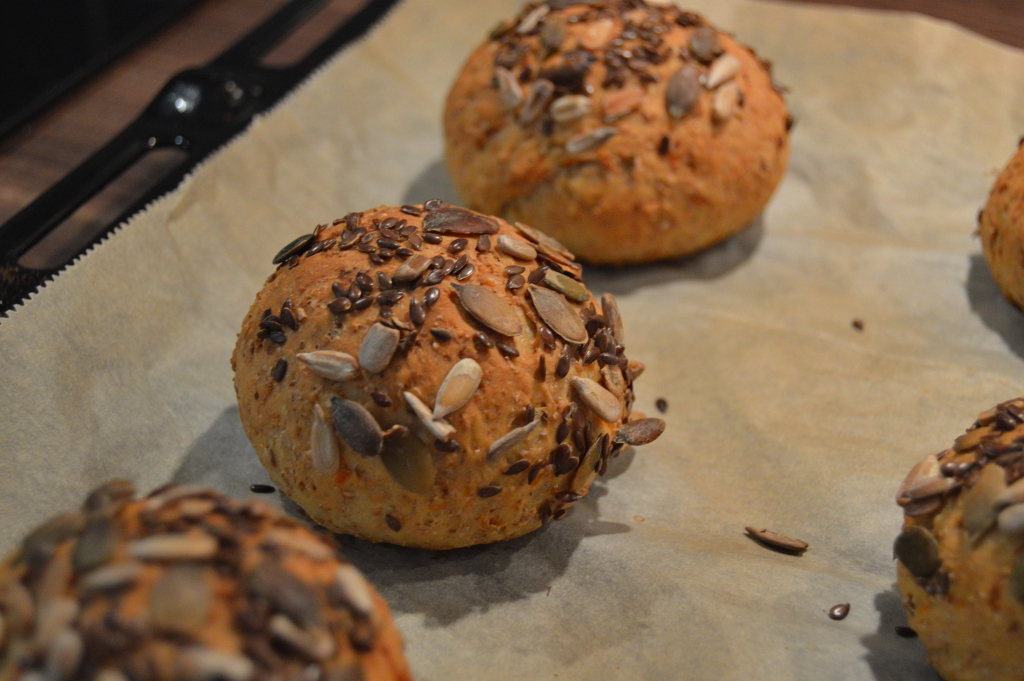 European Measurements
4 dl. whole wheat flour
3 dl. white flour
2.5 dl. hot water
50g yeast
2 carrots
2 tsp. salt
US Measurements
2 cups whole wheat flour
1 ½ cup white flour
1 ¼ cup hot water
1.75 oz. yeast
2 carrots
2 tsp. salt
Directions
Pre measure all the ingredients.
Add whole-wheat flour, white flour, salt and shredded carrots into a mixer bowl.
Add yeast.
Take hot water from your kitchen tap. The water temperature should be between 37-65oC (98-150oF), and it doesn't matter too much. As long as the water isn't boiling it's good to use.
Start the mixer on very low speed for about 2 minutes
Turn the mixer to high speed and let it run for about 12 minutes.
Take the dough out onto the kitchen counter and let it rest for 5 minutes.
Spilt the dough in 8-9 equal parts. (should be 85g/3 oz. each)
Roll them to round balls, and place on a baking sheet
Brush them with hot water and roll them in a grain mixture
Let the rolls rise for 25 minutes
Bake in the oven for about 25 minutes.
Oven Temperature
225o Celsius
440o Fahrenheit

Review
91%
Summary Traditional Norwegian lunch would usually contain some kind of bread with cheese, eggs or some sugar filled paste. These rolls is in the high end of that scale and would be best with fresh boiled eggs, tomatoes and cucumber.